PARANORMAL FILES is sitting on the shelf for the time being, but the paranormal fun won't stop! Tisha will continue to bring you some odd paranomal tidbits on random days and times with WHAT IN THE WORLD?
Our newest program & currently, the only day program in ROF is for all you day walkers. Shan has now joined this wild team, replacing Ozzy while he heals from a vision surgery. Come in and start the weekend off early on Fridays with this wacky variety show with Tisha, Shan & Ox starting at 11am PT / 2 ET.
As of March TRIVIA TEASERS is now hosted by Ox & PJ. Thanks to these 2 hosts for keeping this fun program going! Come join in the trivia fun on Thursdays at 6pm PT/ 9 ET.
GLIMPSE INTO THE UNKNOWN moved to Wednesday night and PJ is now assisting Shan with it. There's been some amazing topics and there are lots of very interesting ones coming up. See here for the future (and past) topics.
Check out our newest game program, GROOVY GAMES on Friday nights! The games may include mad libs, brain teasers, riddles, 20 questions, would you rather?, quizzes, 2 truths & a lie, and more. More info. PJ & Shan make this one of the most fun nights of the week! Come see why it's a fav for ROF guests and packing the house. Maybe it will become your fav too!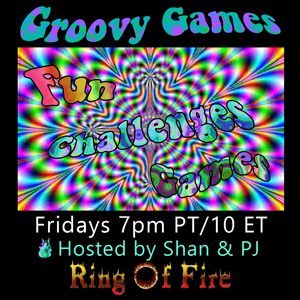 More fun is coming to Ring Of Fire! Visit us on Saturdays for DID YOU KNOW?. A fun filled hour with lots of interesting and unusual facts on a variety of subjects. Join the fun with Ox as your host. Starts at 6pm PT/ 9 ET
Patrick and Larry has joined the management team to work in front of & behind the scenes to help keep Ring Of Fire running smoothly. Thanks, guys!
---
Say hello to our newest mods, Michelle, Dawna & Amanda.
Welcome ladies!
---
Did something funny, interesting or special happen in Ring Of Fire that you think should be heard? Feel free to save the recordings and send them to us. We can put them on our 'Classic Moments' page. Think of it as a 'Best of ROF' collection. See the other recordings that have been shared.
---
We have added a streaming widget to the top of all our web pages. Now you can listen to Ring Of Fire live while browsing our website. Just be sure to mute it if you are talking on ROF so there's no echo.
---
We have 2 new pages on the website, plus some little additions, including an improved animated logo, revamped home page, icons to visit our social media pages, social media sharing sidebar & FB comment plug-in on the calendar pages. The newly added pages are:
---
Ring Of Fire Joined Instagram in 2018!
---
May 2017: ROF has created a very cool forum for our guests and mods.
We welcome you to visit, create a profile, and participate in the forums. There are lots of fun and interesting topics that others are currently participating in.
---
April 2017: Ring Of Fire has finally purchased it's own domain name.
Our website URL is now RINGOFFIRE.CHAT
Add us to your Favorites!
---
Did you get lost here? See the Site Map to help you navigate Ringoffire.chat
---
Do you have something you want to share with us? Have ideas, comments, issues, suggestions? Want to send in nominations for the voting polls or inquire about becoming an ROF mod?
Use the Contact Us form on this website to write to us about anything on your mind about Ring Of Fire and our affiliated channels.
---
Please subscribe to channel alerts in ROF. To subscribe, sign into Ring Of Fire, click the gear icon, and select a subscription option. You will then receive channel announcements right on your Zello app on occasion.
---
If it gets too busy in ROF, you are not interested in the current
topic, or you just can't refrain from using the F word, come by our sister channel
ZELLCOM GROUP, INC.

®
Visit Channel Z for Zelllo app support and some friendly chat.